Darius Himes, Christie's International Photographs - From TIME Magazine Lightbox
"At first glance, Gomorrah Girl may seem to be an unassuming even haphazard book, but as each page unfolds, the viewer is challenged by layers of meaning. [...] This is a moving book of photographs and documents that one wants to return to repeatedly," says Himes,, describing what made the book a winner.


Roberto Saviano on Valerio Spada 'I am nothing' - Twin Palms Publishers

What do you carry when you decide to disappear? It depends on who you are and why you disappear. Clothes: a winter scarf, shirt and velvet trousers. Socks, a sweater and a jacket. And then scissors, glasses, nail file. A brush. Election leaflets from italian politicians Cuffaro, Casini, Ulivo, la Margherita, La Nuova Sicilia and Christian Democratic Socialist Party. Images of Jesus and newspaper clippings depicting men of the Church. A typewriter. A Bible. A handkerchief with an illegible note, burned during the raid by the police in the hideout of Bernardo Provenzano, mafia don of the dons, on April 11, 2006 and hidden in the sink. And words like these from Matteo Messina Denaro in a secret message, a pizzino,

"You see, I have known pure desperation and I have been alone, I have experienced hell and I have been alone, I have fallen many many times and I have got back up again on my own; I have witnessed pure ingratitude on the part of everyone and anyone and I have been alone, I have known the taste of dust and in my solitude I have been nourished by it [...] I am nothing, a loser, but if you need this nothing, I am always here for you, for anything. That is not rhetoric, I mean it from the bottom of my heart. I really love you. With lasting esteem and love, as alwaysP. S.When you have read this letter,burn it."

Valerio Spada has photographed all of this, has collected evidences never shown before in a precious book "I am nothing".I'm a boss but I am nothing. I decide of life and death, but I am nothing. I am nothing because I am like you. I walk by you. I live close to you. I believe in your God using the same objects that you use, but I do not use them as you use them. With my typewriter I compose messages of death.
"I am nothing" by Valerio Spada is an impressive work because it shows us the silence, the penetration of crime in everyday life and our failure or inability to defend ourselves. - Roberto Saviano

Martin Parr and Gerry Badger - From "A History of Photobook, Volume III, Phaidon"

Spada's book – self-published, stapled together, a brilliant combination of the rough-hewn with the exquisite – is a memorial for a dead girl, a cri de coeur for vulnerable young women and a penetrating examination of the social ills resulting from a corrupt and rotten political system.
Edward Hirsch announcing Guggenheim Fellowship

Edward Hirsch, president of the Guggenheim Foundation, described the winners of the 89th annual competition as "the best of the best" in US & Canada in Creative Arts in a news release announcing the prestigious awards. "It's an honor to be able to support these individuals to do the work they were meant to do," he said. The Fellowship in Photography was previously awards to Edward Weston, Robert Frank, Cindy Sherman, John Gossage, Diane Arbus to name a few.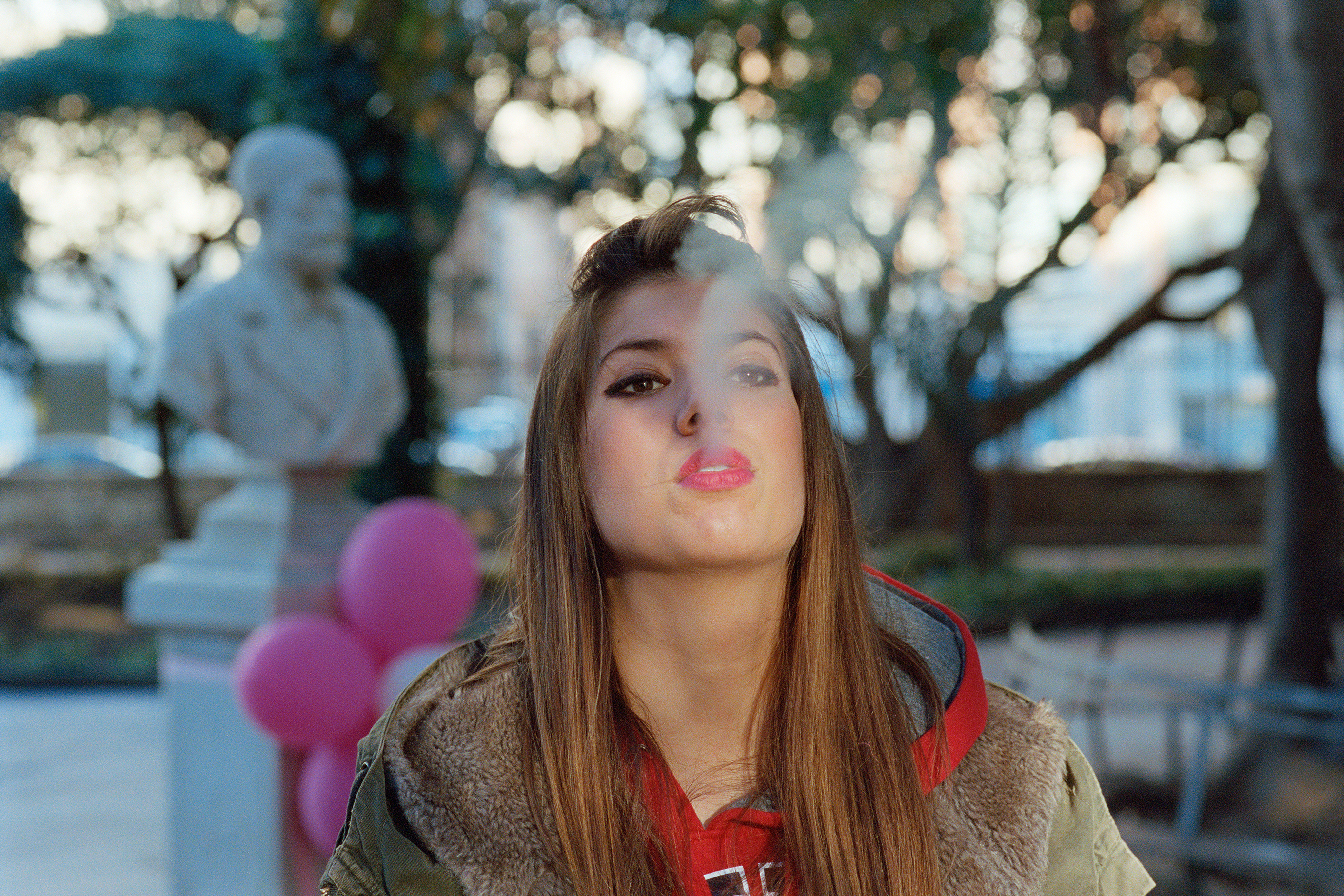 Valerio Spada
Upcoming exhibitions:
Benrubi, New York, Solo Exhibition, March 7th -A pril 27th, 2019
Museum of Modern Art SF MoMA, San Francisco,
The impact of Guggenheim Fellowship on history of Photography, 2020, TBA, Book (Aperture) and Group Exhibition
Gomorrah Girl

Reviewed by Allie Haeusslein, Director Pier 24 Photography, San Francisco, USA
Gomorrah Girl
By Valerio Spada

Twin Palms Publishers, Santa Fe, 2014. 78 pp., 57 color illustrations, 9x13".

"Many of these girls will soon marry Camorristi... Many will bear children who will be killed... But for now they are just little girls in black. They weep for a friend... Annalisa is guilty of having been born in Naples. Nothing more, nothing less."* —Roberto Saviano, author of Gomorrah

On March 27, 2004, fourteen-year-old Annalisa Durante was fatally shot in the back of her head outside her family home, caught in the crossfire of a drive-by shooting; the intended target, nineteen-year-old Camorra boss Salvatore Giulano, was accused of using the young girl as a shield. Though Italian journalist Roberto Saviano had spent some time infiltrating the Camorra — the centuries old mafia-like organization that controls Naples — it was ultimately Annalisa's tragic death that encouraged him to write his impassioned exposé, Gomorrah. Annalisa's death is also the backbone of Valerio Spada's Gomorrah Girl, an examination of the fraught relationship between female adolescence and the culture of violence defining present-day Naples.
Gomorrah Girl combines Neapolitan landscapes and portraits by Spada with rephotographed pages from the police investigation of Annalisa's death and exists as two intermingled books. The worn pages of the police report — printed on something akin to newsprint — are interspersed with Spada's own smaller, glossy photographs. You cannot view one without seeing the other. As a result, the lives of these young women and the landscape they occupy can only be viewed within the somber context of Annalisa's death, producing a disquieting overtone regarding the future of the young women depicted.

The crime scene photographs from Annalisa's death are analytical, unsentimental and sterile — ballistics images, streets covered in evidence markers, approximations of bullet trajectories. They attempt to document and explain. And while they are necessary, there is a dark irony — no matter how much this crime is picked apart and the evidence is analyzed, it is ultimately an unsatisfactory explanation for a senseless event.

Spada's images of young women are highly charged; there is a tension at play, a sense that something is amiss. Allusions to childhood — Hello Kitty, Daisy Duck, oversized headbands and plastic jewelry – appear duplicitous in the company of his subjects. They do not feel like children; they appear sexualized and desensitized to the violence that surrounds and subsumes them. The faces of these teenagers are viscerally hardened, projecting austere personas developed for survival.

A jarring picture that presents a telling metaphor for both the loss of innocence and the marginalization of women depicts a lone woman shooting up, completely ignored by the three men to her left. The photograph was taken in one of the most dangerous places in Italy known as "La Scuola" or "I Puffi" (The School or Smurfs House), a name that refers to the locale's former life as a kindergarten. A place intended to educate and nurture youth falls victim to a culture with little room to experience childhood.
Italy is often associated with the Coliseum, Pompeii, Tuscan hillsides and quaint cobbled roads. It is a struggle to conceive of the inhumane underbelly of a place we so blissfully romanticize. Hollywood portrayals of mafia-like organizations such as The Godfather or The Sopranos conceal the reality of these groups and their implications on society. Spada pulls the rose-colored glasses from our eyes, forcing us to consider how the intimidation, violence and machismo perpetuated by the Camorra reverberates through the fabric of a major city — the third largest municipality in Italy. The final photograph in Gomorrah Girl leaves us uneasy. The thirty-one year old "killer of Scampia" is positioned on a motorcycle in front of a series of apartment buildings, staring straight into the camera's lens. His girlfriend, who did not want her portrait taken, is almost entirely obscured; all that is visible is a small sliver of her face and downcast gaze. Leaving us to wonder — what will become of these Gomorrah Girls?—ALLIE HAEUSSLEIN

*Roberto Saviano quoted by Ed Vulliamy,

"In the grip of Italy's bloodiest mafia clan," The Guardian, 4 October 2008

.